Infrastructure Strategy Workshop
We'll evaluate your entire infrastructure and align it with best practices to optimise IT performance and fulfill business demands.
See precisely where you can improve.
During the strategy session, we'll review your complete system and create a gap analysis that specifies your current state compared with industry best practices and standards. A detailed report of your existing infrastructure topology will show exact components that need improvement.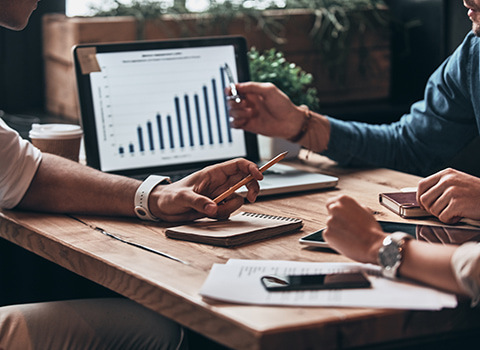 Addressing every aspect of your data center
Our Infrastructure Strategy Workshop consists of four analyses. Comprehensive understanding will help you create an environment that serves your business needs better. We'll assess your:
Data center network
The connections in your infrastructure are critical to accessing your data, applications and insights. We´ll ensure your data center runs smoothly by studying your network tools and architecture.
Compute and Virtualisation:
An analysis of the physical and virtual components of your data center will equip you to boost your IT performance.
Data storage:
In this evaluation we´ll examine the technology that supports your data usability and availability. This involves assessing storage inventory, performance and capacity.
Data protection:
We will compare your data protection and business continuation policies with safety standards to ensure that your information is secure.
Our engineers, consultants and architects have expertise that spans people, processes and technology. Actionable and practical guidance from Insight will ensure infrastructure availability, response times, reporting accuracy and backup success rates.
The benefits of advanced IT
The latest data center platforms empower businesses to accomplish more. Converged systems streamline management by unifying storage, networking and computing. Hyperconverged solutions simplify scale. And flash improves data latency and usability.
Adopting these modern technologies can both reduce costs and increase performance. In our Infrastructure Strategy Workshop, you'll get critical information that demonstrates how transformational technology can improve your existing environment and help you meet your goals.